Emerson's Zedi Cloud SCADA Solutions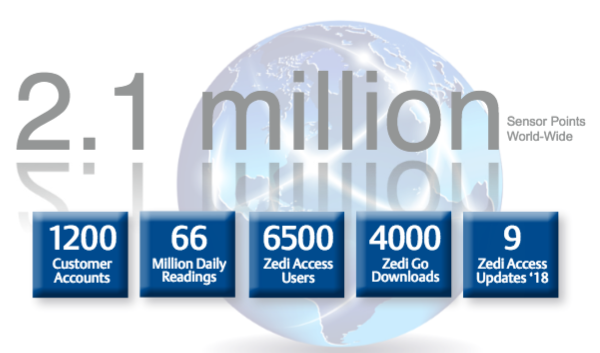 Remotely view and control equipment
Remote control

Single user interface

Accurate and real-time data

Optimize operations and production

Measurement assurance and accuracy

Advanced alarming of critical thresholds

Custom Engineered Solutions
Our specially trained team of Engineers can build, program, and test a turnkey solution engineered specifically to meet your needs. We offer all the necessary hardware at a competitive price, with full acceptance testing of every part of the build. We then host all your data on our secure servers, delivering real time data and remote control features through our Software Solutions.

We provide insight to your data for increased production, profits and sustainability in oil and gas, agriculture, wind, solar, and food service industries, with both mobile application and desktop versions available.

Information Security
Zedi has adopted the ISO27001 Information Security framework, and utilizes a risk based approach to continuously review, assess and remediate risks associated to our systems and client data. This provides encrypted communication between our platform and any end device, real-time customer data backups, active monitoring of health of all services, and geographically disperse fail over processing capability.
For over a decade, Zedi Inc. has been taking our client's data security and availability seriously and is dedicated to effectively manage risks to our cloud platform and infrastructure, ensuring the confidentiality, availability and integrity (CIA) of the systems and related data.
Industry leading Data Center

Encrypted communication between our platform and any field device

Real-time customer data backups

Active monitoring of health of all services

Geographically disperse fail over processing capability

Continuous Platform Enhancements
We define our industrial quality remote monitoring and control platform at consumer prices by ensuring our customers always have the most advanced SCADA solution. Our accomplished team of engineers, developers, and IIoT experts drive our innovative platform enhancements to give you leading-edge data to promote your production, profits and sustainability to new heights.


Truly End-to-End Integrated Solutions
We offer solutions to your largest challenges in your quest to achieve Top Quartile production. We offer Software, Automation, and SCADA solutions, all backed by the service you demand.


SaaS (Software as a Service)

The Zedi team of Software Solutions developers diligently bring the industry leading advancements to your production to fully support your strongest return. The ease of our SaaS cloud-based platform seamlessly delivers the most current user-friendly data to the hands of your team for real-time, accurate decision making production gains.


24/7 Support

Our Customer Care team is 'always on' with 24 hours a day, seven days a week service for your easy accessibility to the answers you need, whenever you need them.

Keep Go-ing... with Zedi Go
Mobility to the power of our market leading platform