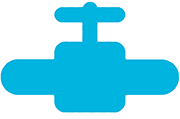 Increase pipeline safety and integrity at your site
Pipeline Leak Detection quickly alarms for potential leaks, while reducing costly false alarms and wasted trips to site. Engineered with machine learning and artificial intelligence to adjust to historical operations through complex machine learning to provide the confidence that you're meeting regulatory compliance, and environmental requirements. Avoid costly delays and operational risks while increasing profits by keeping your budget and team time in check by reducing false alarms.
Reduce false alarms


Ensure timely and adequate response

Reduce cleanup costs

Establish regulatory compliance
Proven to detect a 1% leak in 10 minutes or less
Zedi Pipeline leak detection learns the normal operating parameters to diagnose when a potential incident is occurring, including system anomalies and other maintenance issues. Zedi Pipeline Leak Detection uses historical, and live data for intuitive machine learning to ensure faster, more accurate alarming.

Efficient and cost effective
Reduce downtime and false alarms

Increase safety and compliance


Increase response time

Lower cleanup costs
Machine learning and AI

Fast set up and path to accuracy


Custom to your operation

Constantly updates and learns

Compliments any SCADA system
Operational data
Easy to understand dashboards

Measures flow rate, pressure and status

Regulatory and environmental reporting

Applications
Pipes at well sites


Mains without redundancy

Critical feeder mains

Mains with a history of rupture or leaks

Some industry supply lines
Scalable and expandable solution
From as much, or as little pipe you need to monitor in a location, all serviced by the same communications assembly. Easily add additional capacity to increase pipe detection all with the data you need to increase production and remove false alarms from your budget.

Reduce site visits

Increase productivity

Reduce downtime

Any size & material pipe
Read the full Pipeline Leak Detection White Paper here