When you go to a restaurant, do you order straight off the menu? Or do you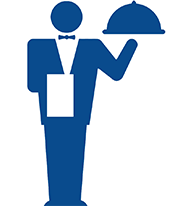 substitute mashed potatoes for fries, do you ask for extra tomatoes, or do you ask for rye instead of wheat? Or do you just ask for a number 5, pay your money and go sit down?
When it comes to ordering reports on your field data, you can't settle for a "Number 5." There are certain things you need to see first, there are certain ways you want things listed and there are ways you need it broken out.
Want it "your way?" I'm glad you asked. That's exactly why we put together Emerson's Zedi Vital.
The word Vital is from the Latin for "life," and getting access to the most critical data right off
the top is indeed life for your company. Vital lets you sort by exception, by well, by type of production, by field, by date or date range, or by any other criteria you input.
If you're already using Emerson's Zedi Access to collect your field data—whether from SCADA, field charts or manual entry— Zedi Vital is an easy addition. It imports data easily and seamlessly from Emerson's Zedi Access, instantly putting it into the reports and spreadsheets that help you make your daily, monthly or yearly decisions.
All these reports are on the cloud, so any authorized people can look at them with you. One of my favorite things about this is that it not only prioritizes according to your parameters, it promotes collaboration.

The field guy can consult with the engineer, or vice versa. The supervisor can call the compressor company the minute there's a sign of compression issues.
Reports can easily be modified, too. As field situations change, you may need to see your data differently. In fact, you may need to sort your data by field and by a series of different date ranges to learn when a problem began—all at one sitting.
Emerson's Zedi Vital is just as easy to modify as it is to set up.
Don't let anybody make you order off the menu.
If you're using another system that does limit your options, talk to us. We can probably import your existing data and get you vital access to the data exactly the way you need it.
We are here to help you, not to sell you what we think you need.