Water management companies can make major safety and control gains with Emerson's Zedi Cloud platform that quickly and accurately compiles data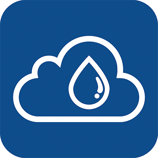 from any digital monitoring hardware via gateways that support a variety of protocols.
We provide end-users with a web interface as well as the ability to push data to third-party platforms, allowing remote control and optimization via cloud-based data access.
Leveraging the flexibility of a cloud-based SCADA platform enables you to capture unlimited amounts of data from any digital monitoring hardware and transmit it quickly to the appropriate personnel so they can access and analyze the data in real-time to make faster, more informed decisions.
Our cloud platform provides evergreen enhancements, a mobile app, alarms, full support and rigid security for remote control and monitoring to make water management more streamlined, safer and efficient.

Cloud based data for water management
Automating systems allow for water operations management to control every step of the process from any digital device anywhere. On top of monitoring and control, every pumping station, feed pump, and critical motor has a digital alarm linked into the cloud based platform that delivers accurate data into our software as a service.
Recognizing the need for digital transformation helps water management organizations to optimize operations, reduce cost and increase safety, health and enviroment.
Digital transformation leverages IIoT technologies, software as a service, automation installation services and expertise to expand digital intelligence throughout a workforce, augmenting workflows and processes to create new efficiencies and competencies that affect cultural and behavioral change within an organization.

An example of one of our many solutions, was working with
a

water utility company

that

uses valve stations to control water that flows through their county. The company was having trouble regulating flow rate downstream, which in turn was affecting

the

equipment. To properly regulate flow, flow rate needed to be monitored and adjusted to the

desired flow rate safe for equipment operation, leading to reduced cost from fewer equipment breakdowns.
With past solutions proven ineffective and not much room to install the equipment, the customer required a solution that was not too invasive for operations. Our teams solution was the following:
Hardware:
Valve Positioner: Retrofitting the valve stations with valve positioners which deliver

pressurized air to the valve actuator so that the position of the valve stem or shaft corresponds to the setpoint from the control system

Field Gateway 600: For Cellular telemetry and the onboard I/Os to monitor

Upstream pressure

Downstream pressure

Valve position
Platform Solution:
Near real-time monitoring of pressure sensors and valve positions

A Cloud-derived flow rate uses a flow algorithm to enable the client to monitor and control valve stations via Zedi Access web interface and the Zedi Go Mobile App
With our cost-effective custom solution, the customer has been able to decrease equipment downtime and optimize water flow through valve stations. This is just one of the many ways we can help digitally transform the water management sector and help create stronger running, more efficient operations using Emerson's Zedi Cloud SCADA automation, cloud platform and software as a service solutions.