This blog post is by Zedi's Production & Completions Technologist, Igor Shulyatikov.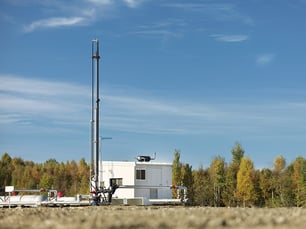 In World Oil's article, "What's New in Artificial Lift?", I outlined key features and benefits of the Zedi SilverJack system. The Zedi SilverJack artificial lift system is a unique combination of a surface hydraulic lift solution with a powerful integrated controller combined with a web-based data collection/management/control system (Zedi Access) that provides the capability to remotely detect and resolve many common problems encountered with conventional downhole rod pumping equipment.
With precise monitoring and trending of rod loads, position, velocity and other key operating parameters, the Zedi SilverJack system auto-detects and notifies operations and production team members of issues with a rod pump quickly (in as little as 15 minutes).
Early problem detection and notification is the first step in avoiding costly downtime but quick problem resolution is just as important. With Zedi SilverJack's unique capabilities to support remote adjustment of all aspects of rod string movement (i.e. stroke rate, stroke length, up/down stroke ratio, acceleration time up/down, deceleration time up/down, and top/bottom dwell times) many common problems can be addressed without the need to travel to site to ensure optimal production.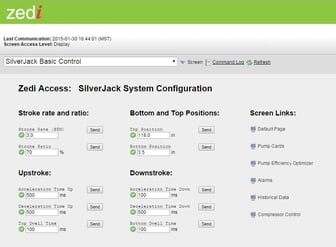 Examples of rod pumping issues that can be remotely detected and resolved include gas lock, traveling valve seating issues and debris in downhole pumps. Figure 1 (click to expand) shows the Zedi SilverJack rod string adjustments used to address gas lock issues. By increasing the down stroke acceleration and velocity, the pressure differential on the traveling valve can often be increased enough to open the valve and allow the gas to escape. By using the Zedi SilverJack system we have achieved a 90%+ success rate in addressing such issues for our customers and that resulted in significant cost savings through reduced downtime, less site visits and avoided work overs.
Figure 1
In addition to the problems that can be resolved with remote parameter changes on Zedi SilverJack (e.g. gas lock, poorly seating traveling valve, etc.) there are several other common mechanical issues that can be detected and partially addressed using Zedi SilverJack. Some examples are worn or split pump plunger, worn or split pump barrel, and a worn traveling valve. By adjusting the upstroke speed and acceleration time it is often possible to improve pump efficiency by limiting the total upstroke leakage between the pump plunger and barrel. In the case of a split barrel, the pump top or bottom position can often be adjusted to avoid the damaged area in the pump allowing some production even with a damaged pump. In these scenarios, well work-overs are required to fully resolve the issue but the capabilities of the Zedi SilverJack can help defer work-over costs or at least maintain some level of production while waiting for a service rig. In my next blog post, I will review some of these case studies.
---

Before joining the Zedi Optimization team, Igor Shulyatikov worked with the Gazprom (Russian Oil & Gas production company) for over 17 years and provided optimization service and artificial lift technology development. Igor has over 19 years of industry experience and has Master degree in Mechanical Engineering and PhD degree in Reservoir Engineering and Oil and Gas Production.
Email: Igor.Shulyatikov@zedi.ca
---