It is providing constant situational awareness with mobility tools to power enhanced collaboration. That means secure, on-demand access to information and expertise regardless of location, enabling action and collaboration through shared, relevant information.

Our Zedi Go Mobile App was designed for oil and gas producers. When you're in the field or out of the office, Zedi Go will keep you updated instantly and allow you to access your most recent production and operational data.
Emerson Zedi Access is a software for remote SCADA monitoring, control, and optimization at the well pad. Zedi Go mobile app is a mobile version of Emerson Zedi Access. Any data accessible in Zedi Access is also visible while on the move using Zedi Go.
Our app allows field staff to easily view real-time performance data, analyze trend graphs, input operational data, change settings, issue commands, create customized mobile forms, and update control systems anywhere with the convenience of their smart device.
Zedi Go is designed for Surveillance
The app allows field personnel to review production data in real time from their smartphone. Staff can prioritize their work while in the field based on current alarm information and acknowledge alarms.
Monitoring solutions can be implemented in all areas to give operators extensive visibility of conditions at the well site and facilities. You can significantly reduce downtime, decrease production losses, save money, and time with alarms notifications.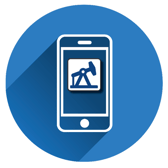 Alarms notifications are available to customers via the app to help you quickly fix any problems. You can receive Shutdown alarms (pump/motor), Shutdown reasons (due to well operation abnormalities or surface equipment problems), and well operation parameters (rod loads, pump fill, tubing/casing/compressor pressures, and others)
Based on these alarms, the parties responsible for operating the wells can make quick decisions and take immediate action.
Zedi Go is designed for Control
In addition, staff can control sensor data remotely via a user-friendly interface and perform a multitude of tasks from any location. Check and change the RTU controls from the Zedi Go app.
Zedi Go is designed for Data Entry
Finally, enter data and update the production system via your mobile device. Our team can customize and provide data entry screens specifically for your business that allows manual data entry into the Zedi Go app. Examples of custom entry screens can be truck tickets, race length, or orifice plate changes.
Standard data entry screens available on the app are chart estimates, tank levels, downtown code, tubing & casing pressures, and site notes.
For remote locations, field staff can save any data inputted into the app offline using local storage memory and then upload data to Zedi Access once reconnected to the internet.
Emerson's Zedi Go is frequently updated via the cloud to ensure optimal, advanced functionality for our users.
Download our Zedi Go App through the Apple store or Google Play if you're ready to view, control, and modify production information from your mobile device.