The basic formula for increasing oil well production is pretty clear to me: the more the pump runs, the more oil it pumps. The real issue is how to reduce downtime, so that it runs more, and pumps more.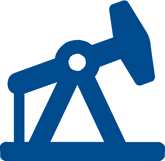 What wasn't clear to me is why on earth about 100,000 pumpjacks in the US alone are not monitored—other than by someone driving all the way out to the well site every couple of days. With that method, a pump may have been down, or even worse leaking for a day or so before it's noticed by anyone. That's several hours of production time that can never be recovered.
For a producer that desires oil and gas automation, installing a remote monitoring system from scratch is not always so clear cut, or easy to understand. There are so many options, and decisions to make - what to install where, people to hire and train, which systems to use, which software is best, the logistics of it all, and then losing sleep hoping, and praying that it all works together…
We can make things a whole lot simpler for you by installing a turnkey monitoring system that's perfect for your needs.
Got a couple of remote, problem wells? We can do that. Got a field of 50 wells? Sure, we can easily do that, too.

With Emerson's Zedi Software Solutions and our cloud based platform you'll have data on the status of your pumps—or compressors, tanks, pipelines and more—ready for you on your desktop or phone, wherever and whenever you need it. Operational status, pressures in casing and tubing, tank levels, temperatures, totalizers and more data can all be monitored, recorded and analyzed.
Don't worry, you don't have to stare at your phone all day waiting for a problem to show up. We can create alarms based on data sets that minimize false alarms so you, and your team can react quickly whenever production stops or there's a problem requiring action.
Now your pumpers won't have to drive to a well that's been down for a day or so without the right tools, time or knowledge of the actual problem. They also won't waste valuable time, or risk their safety driving all those miles checking on pumps that are working just fine. They'll be driving only to the wells that actually need work, and they'll have a good idea of what tools, parts, and people they need to fix it right on the first trip.
Even one well is worth automating. We've had numerous customers ask us to start with one well, or a handful, as a test—then call us and say, "How soon can you do the rest of our wells? We're amazed at how much time and money this has saved us, and how much our production has increased!"
We're ready to help you with whatever you need to get the information and results you want for your fields. We'll tailor the monitoring program just for you.