You don't have to be a data analyst, automation expert, brain surgeon or even a rocket scientist to gain hassle-free access to your data analytics to increase your production, profits and sustainability. We've got the experts you need already in place and ready to roll up their sleeves and get to work for you today.
Our SaaS (Software as a Service) delivers the right analytics to all the right, authorized users to enable better business decisions across your organization. When you partner with Emerson we make sure you have a hassle-free experience, because we realize you have far more important tasks at hand than trying to juggle special projects along with your daily core focused activities.
This is why we offer project management to help make implementation as painless, and hassle-free as possible. We deliver the end result of getting your analyzed data to your people without all the worry and stress of the project itself.
As a general rule, project management methodologies are designed to be able to standardize, structure, and organize work processes. Having this approach ensures we demonstrate repeatable, successful processes, learn from mistakes, and pave the path to completely hassle-free projects for our customers.
These Project Management (PM) practices are what we use to help companies in various industries implement SaaS and technology by providing organized, flexible and knowledgeable support to help guide your operations through a successful implementation and get your data flowing in seamlessly and easily without absorbing any of your internal resources that have other focused role responsibilities.
Increase your success rate
Emerson's Zedi Project Management Services can help your company stay on track and reduce risk by helping you create, manage, and monitor cloud integration projects. It also makes it easier to collaborate with others more efficiently because projects can be completed in a fraction of the time as compared to other conventional methods.
Our project management services are beneficial for industrial cloud integration projects in oil and gas production, gas distribution, water utilities, wastewater utilities, mining, packaging industries and more. We help your operations with project sizes that scale from small, to deeply complex.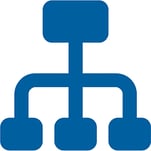 We've helped new and existing customers navigate many projects to achieve their technology goals and objectives as they target digital transformation goals to exceed operational efficiency roadmaps.
Our experts help your operations successfully complete projects on time and on budget so you can remain focused on your core day-to-day business. Our project delivery teams leverage advanced experience, education, methodologies, and tools to ensure an efficient, hassle-free and well-executed project.
Benefits to using our PM services include:
Help to develop vision and direction – Our PM's (Project Managers) will help your operations identify the vision of your Cloud project and give it purpose and direction. They also provide the point of contact for the project and will be responsible for all communication between all stakeholders which helps to decreases confusion and increases accuracy among the project team.

Increase efficiency – PM's work with your project team to define the tasks which need to be undertaken to complete the project, and in what order they should occur. This ensures that they are completed efficiently.

Manage scope – The scope of the project is comprised of what must be delivered (the project deliverables) and what work must be done to deliver the project deliverables. The project manager will continually address scope management throughout the life of the project by regular monitoring and controlling. This in turn saves effort and cost.

Control costs and time– Delivering on time and within budget are two constraints of any project. Our PM services will not only help you control capital costs but also the people resources, both internal and external of your project. Time is arguably the biggest challenge of any project. The project manager must control the project schedule by examining milestones, key dates, and the critical path throughout the project lifecycle.

Schedule the work– Your designated project manager will ensure that all the project team members work on their tasks in the appropriate order. This includes calculating the time a task takes and solving any problems which may delay them making their deadlines.

Deal with potential risks – There is always a chance for potential risks when implementing Cloud projects, no matter how well planned our project managers can help you identify potential risks, assess the impact they may have and consequently make a plan to avoid or manage them.

Communicate with stakeholders – Once the project is up and running, it is crucial to communicate progress of the project to both the project team and the stakeholders. The project manager communicates the goals and performance to business leaders in a regularly scheduled report.

Close the project – After the project has met the goals and expectations of the project customer, the project manager documents and reviews the project phases with the stakeholders. Evaluation of the project is undertaken with lessons learned noted for the next project.

Our experts can help your operations take-on small to complex cloud integration projects, so your ROI meets your objectives.